Home > Permanent Exhibition
We are the only museum in the world that exhibits glassworks created by a technique known as lampworking. Our collection includes approximately 2,000 showpieces, including lampwork beads, or "Tombodama" in Japanese, from ancient times through the modern age of great variety: exquisitely artistic works and distinctively unique ones. The exhibition presents you with all the charm and fantastic potential of lampwork as an art form.
History: In Praise of Ancient Glass
In this gallery, the collections of Habara Akinori are on display. Here you can learn the history of glass, focusing on Tombodama. Habara was from Okayama, Kurashiki, and was one of Japan's leading ancient glass collectors. The pieces on display are not replicas but all originals.
In 2015, the tenth anniversary of the museum, we revamped the exhibits by changing the display order from chronological to theme-based. The rearrangement included the works of Matsushima Iwao and Yano Taiaki. Attracted to ancient glasses, both artists have expressed their unique aesthetics.
Images are for illustration purposes only. The actual exhibition may vary.
Works by Contemporary Artists
We display works created by domestic and international lampwork artists.
Images are for illustration purposes only. The actual exhibition may vary.
WORLD LAMPWORK GLASS
This exhibit showcases works donated by Japanese and foreign artists with thoughtful messages for Kobe regarding its losses and its reconstruction after the great Hansin-Awaji earthquake.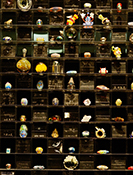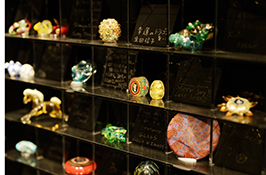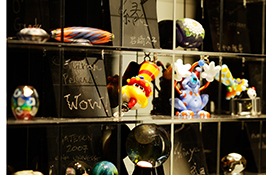 What is Lampworking?
Lampworking is one of the many glasswork techniques in which you melt glass with a burner. The word "lampworking" derives from the lamps historically used before burners.
Varieties and Techniques of Artworks on Display
Tombodama/Lampwork Beads


"Tombodama" is a general term referring to any decorated glass lampwork bead that has a hole through its center. The Japanese word "Tombo" means "dragonfly." In traditional Japanese culture, a decorated glass ball was likened to a dragonfly's compound eyes made up of lots of "mini-eyes" and called "Tombodama." Tombodama is also known as "lampwork beads" overseas.
Core-formed Glass


Core-forming was the first technique used to produce glass vessels. This technique involves shaping a core made of clay to serve as a mold and covering the core with molten glass to form a glass vessel. Because of its lengthy production process, core-formed glass disappeared when blown glass was invented and popularized. Matsushima Iwao revived the practice, which has led to many contemporary artists using this technique.
Sculptures/Glass Artwork


Three-dimensional glass artworks, which may be highly artistic or individual, demonstrate the appeal of lampworking.
Art Marbles


Art marbles are spherical art pieces, containing fantastic designs inside and expressing each artist's individuality. They fascinate viewers and have received increased recognition as collectibles.
Paperweights


Unlike glass marbles, paperweights have a flat base that lends them practicality. With flora and fauna exquisitely expressed in transparent glass, they demonstrate the great creative potential of working with glass.
Murrini


"Murrini" is an Italian word for glass that displays a consistent pattern when it is sliced, just like cutting a roll of "slice-and-bake" cookie dough. The slices can be incorporated into Tombodama or art marbles. Alternatively, their repeating patterns alone can become significant as an artwork in and of themselves.
Images are for illustration purposes only. The actual exhibition may vary.